Library Hours
Monday: 9am-6pm
Tuesday: 9am-6pm
Wednesday: 9am-6pm
Thursday: 9am-6pm
Friday: 9am-5pm
Saturday: 9am-12pm
Sunday: Closed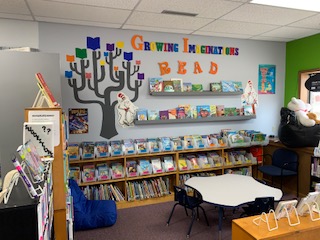 Parkston Public Library has something for everyone. We are located on the center of Main Street.
We offer most services that you find at a library. Library cards are available free of charge for people living inside the Parkston city limits and for those outside city limits there is a small fee.  We offer computers and free Wi-Fi to everyone. You can access up to 62 databases (such as Ancestry Library Edition, US History Online: American Revolution, Civil War, Slavery in America, Miss Humblebee's Academy, and Consumers Report) through the State Library.  We can also make copies and send faxes.
We have a full genre of books, DVDs, and audio books. With your library card you can access digital books, audio books and magazines through the SD State Library with the Overdrive or Libby apps.
During the school year we offer Legos to grades Kindergarten thru 6th.  For the younger preschool children, we have Storytime.
During the summer months we have a summer reading program to help keep the children reading during the summer school break. Prizes are given out for the minutes the children read.
We recently started a 1,000 Books Before Kindergarten which has been a big success. Sign up and get rewards as you read to your children ages birth to preschool (finishing before kindergarten). The goal is to read 1,000 books by the time the child reaches kindergarten. Reading to your children is a great way to prepare them for a successful start to school.
 Our backroom of the library can be rented for a fee for small gatherings/meetings. Please reserve so it will be available when you need it.

Check out eBooks & Audiobooks

Search our Library Catalog
WiFi
Books
Audio Books
Magazines
Newspapers
CDs/DVDs
Reference Materials
Photocopier

Computers
Scanner
Storytime
Large Print Books
Microfilm
Meeting Room
Lego Mondays
Fax